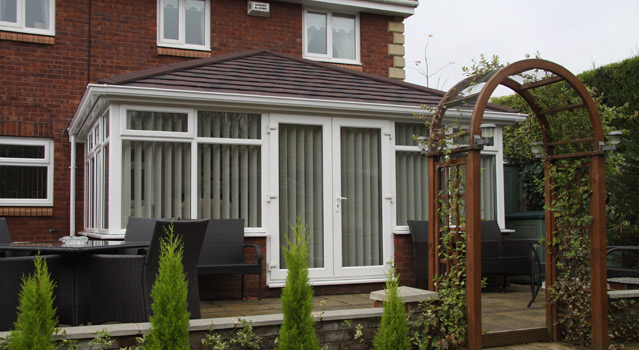 One of the most critical parts when building a new conservatory if the base, regardless of the size or design of the conservatory !!
Example's and information of our conservatory building work includings foundations & brickwork by Regent Windows of Coventry.

While choosing the design, look and feel of what your new conservatory looks like above the ground, what needs to happen below the ground is quite arbitrary, and is in most cases defined by your Local Building Authority. Plus, consider the fact that, it is the quality of the foundation work that will ultimately dictate the conservatory life expectancy.
One of the most important points of any new conservatory installation, (and one that is most often over-looked) is to aim to achieve the lowest possible 'U' value so as to enable the maximum all year round use – this includes the floor & walls which are obvious areas where effective contributions to this aim can be achieved quite cost effectively.
Where possible and in most cases all walls should be constructed to match the existing brickwork, stone or rendered finish construction of the existing property and have an insulated cavity wall ! With a choice of brickwork on both sides, or brickwork externally and the use of internal insulated blockwork and plastered.
Below is an example of a conservatory base under construction . .

Compared to a single skin-wall which most window companies build, this has a 'U' value of 3.1 W/m²K, and a insulated cavity wall of 0.5W/m²K. More than a 600% improvement in insulation is effectively achieved by using this method !
The internal conservatory floor can be float finished or screeded, and can be fully insulated to further increase insulation values. A uninsulated has a 'U' value of only 1.5 W/m²K, but if you add a 25mm insulation to this it drops to 0.8 W/m²K, whilst a 50 mm insulation achieves a 0.55 W/m²K – that equates to nearly a 300% improvement. (Figures are approximate based on a conservatory floor of 3m Sq).
Regent Windows have construction and engineering experience, so you can rest assured that regardless of the size, type or design of your chosen conservatory, we will treat each individual building, property and installation with the utmost respect . . and whilst every conservatory we build & install contains the same principles – it is a fact that the ground your property resides on will be slightly different in one form or another than one just round the corner.
With this in mind we always have open mind and a fresh approach to every new customer, and conservatory which we are about to install !
Regent Windows, quality assured, with over 25 yrs fitting experience –
portfolio and references available, please ask for details:
. . contact Regent Windows for further information and full product details – high quality PVCu window and doors to the trade and DIY at trade prices within the Coventry, Leamington & West Midlands areas.
« go back to main conservatories section:
From building to completion